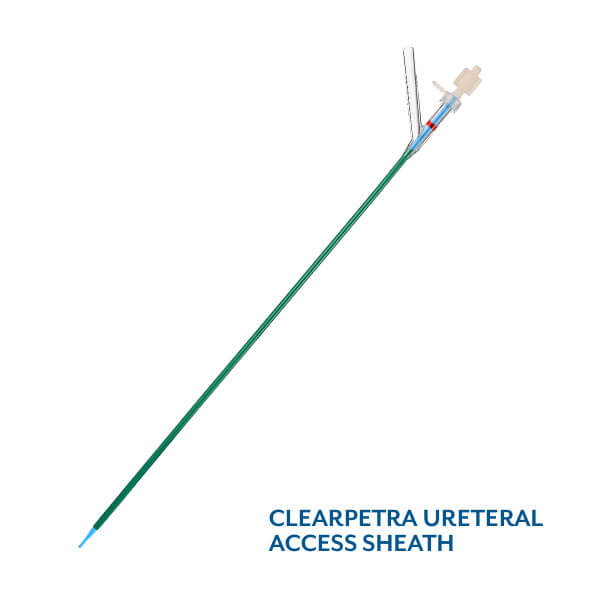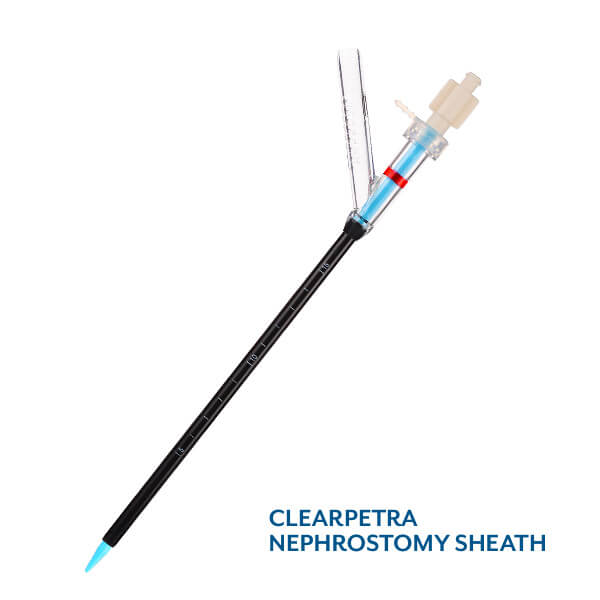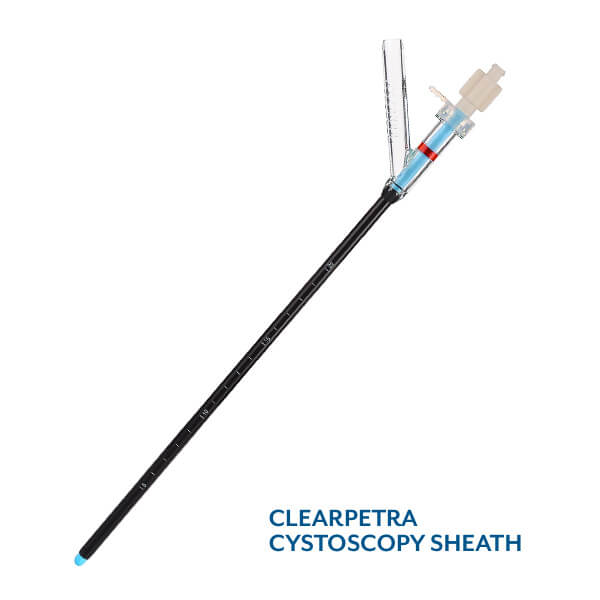 System for Continuous Flow Lithotripsy
The ClearPetra System combines the utility of an access sheath for laser lithotripsy, with continuous flow fluid dynamics, for effective and efficient stone fragment removal. The ClearPetra system can reduce intra-luminal pressure, stone retropulsion, improve the visual field, and save operating time. A reduction in the use of additional stone removal accessories and improved procedure efficiency can significantly reduce overall procedure costs.
The ClearPetra System helps address these challenges by using the vortex created by continuous high-flow irrigation and vacuum fluid dynamics to attract and capture fragments while reducing overall urinary tract pressure.
PROBLEMS ENCOUNTERED DURING ENDOSCOPIC LITHOTRIPSY:
Operation time
Obscured visual field
Difficulties in extracting residual stone fragments
Stone retropulsion
High intra-luminal pressure in the urinary tract
Shorter procedure time by efficiently controlling and removing fragments, the total operations time is reduced.
Improved visual field under continuous irrigation and suction. Bleeding and dust storm from stone pulverization no longer obscure the visual field.
Improved stone clearance stone fragments will aggregate at the distal end of the ClearPetra sheath instead of scattering and are removed through the oblique side port on the ClearPetra Sheath by the continuous suction.
No more stone retropulsion. Effectively prevents retrograde stone migration with Negative Pressure Aspiration and at the same time, removes the stone fragments.
Reduces intra-luminal pressure vortex, which is created by continuous irrigation and suction. It reduces the operational (intra-luminal) pressure.
No accessory device required - stone baskets, forceps, and anti-retropulsion devices are no longer necessary. Under the Negative Pressure Aspiration, the stone fragments are captured and evacuated.
Note: Micro-Tech is the exclusive U.S. distributor for ClearPetra and all U.S. based orders must go through Micro-Tech Endoscopy.
CLEARPETRA URETERAL ACCESS SHEATH HYDROPHILLIC COATED
| CAT NO. | Size (ID x OD x Length) |
| --- | --- |
| 90111013 | 10/12Fr x 13cm |
| 90111026 | 10/12Fr x 26cm |
| 90111036 | 10/12Fr x 36cm |
| 90111040 | 10/12Fr x 40cm |
| 90111046 | 10/12Fr x 46cm |
| 90111055 | 10/12Fr x 55cm |
| 90111113 | 11/13Fr x 13cm |
| 90111126 | 11/13Fr x 26cm |
| 90111136 | 11/13Fr x 36cm |
| 90111140 | 11/13Fr x 40cm |
| 90111146 | 11/13Fr x 46cm |
| 90111155 | 11/13Fr x 55cm |
| 90111213 | 12/14Fr x 13cm |
| 90111226 | 12/14Fr x 26cm |
| 90111236 | 12/14Fr x 36cm |
| 90111240 | 12/14Fr x 40cm |
| 90111246 | 12/14Fr x 46cm |
| 90111255 | 12/14Fr x 55cm |
| 90111313 | 13/15Fr x 13cm |
| 90111326 | 13/15Fr x 26cm |
| 90111336 | 13/15Fr x 36cm |
| 90111340 | 13/15Fr x 40cm |
| 90111346 | 13/15Fr x 46cm |
| 90111355 | 13/15Fr x 55cm |
| 90111413 | 14/16Fr x 13cm |
| 90111426 | 14/16Fr x 26cm |
| 90111436 | 14/16Fr x 36cm |
| 90111440 | 14/16Fr x 40cm |
| 90111446 | 14/16Fr x 46cm |
| 90111455 | 14/16Fr x 55cm |
CLEARPETRA NEPHROSTOMY SHEATH
| CAT NO. | Size (ID x OD x Length) |
| --- | --- |
| 90121013 | 10/12Fr x 13cm |
| 90121015 | 10/12Fr x 15cm |
| 90121017 | 10/12Fr x 17cm |
| 90121021 | 10/12Fr x 21cm |
| 90121213 | 12/14Fr x 13cm |
| 90121215 | 12/14Fr x 15cm |
| 90121217 | 12/14Fr x 17cm |
| 90121221 | 12/14Fr x 21cm |
| 90121413 | 14/16Fr x 13cm |
| 90121415 | 14/16Fr x 15cm |
| 90121417 | 14/16Fr x 17cm |
| 90121421 | 14/16Fr x 21cm |
| 90121613 | 16/18Fr x 13cm |
| 90121615 | 16/18Fr x 15cm |
| 90121617 | 16/18Fr x 17cm |
| 90121621 | 16/18Fr x 21cm |
| 90121813 | 18/20Fr x 13cm |
| 90121815 | 18/20Fr x 15cm |
| 90121817 | 18/20Fr x 17cm |
| 90121821 | 18/20Fr x 21cm |
| 90122013 | 20/22Fr x 13cm |
| 90122015 | 20/22Fr x 15cm |
| 90122017 | 20/22Fr x 17cm |
| 90122021 | 20/22Fr x 21cm |
| 90122213 | 22/24Fr x 13cm |
| 90122215 | 22/24Fr x 15cm |
| 90122217 | 22/24Fr x 17cm |
| 90122221 | 22/24Fr x 21cm |
CLEARPETRA CYTOSCOPE SHEATH
| CAT NO. | Size (ID x OD x Length) |
| --- | --- |
| 90131821 | 18/20Fr x 21cm |
| 90131824 | 18/20Fr x 24cm |
| 90132021 | 20/22Fr x 21cm |
| 90132024 | 20/22Fr x 24cm |
| 90132221 | 22/24Fr x 21cm |
| 90132224 | 22/24Fr x 24cm |
Stone Collection Bottle
| CAT NO. | Size (ml) |
| --- | --- |
| 79880140 | 140ml for 10Fr-22Fr sheath |