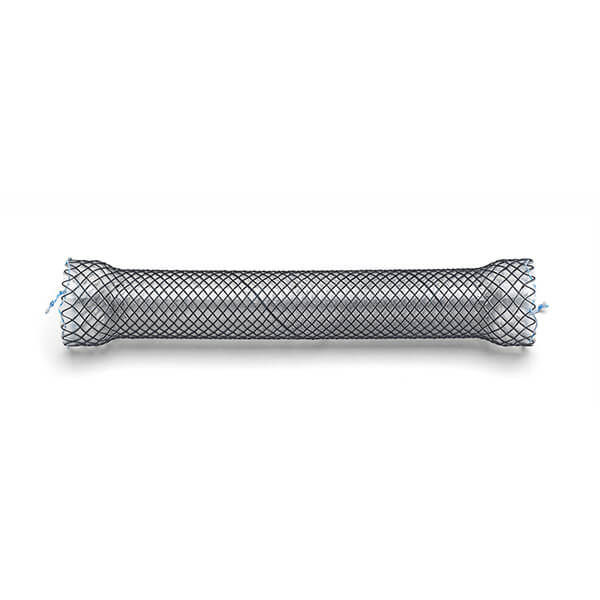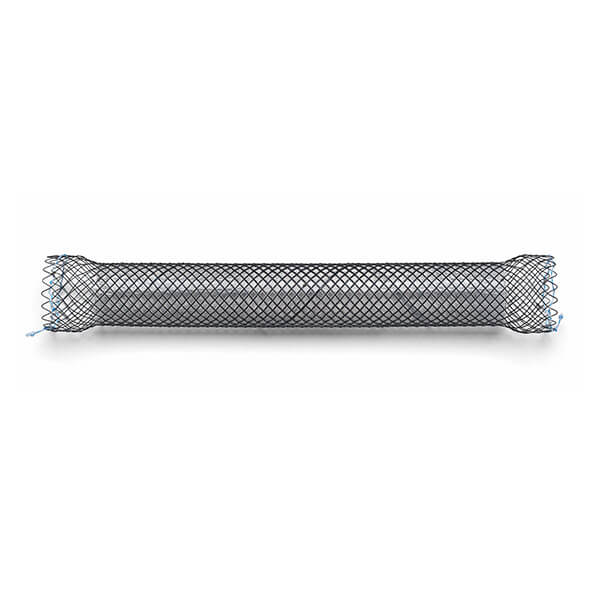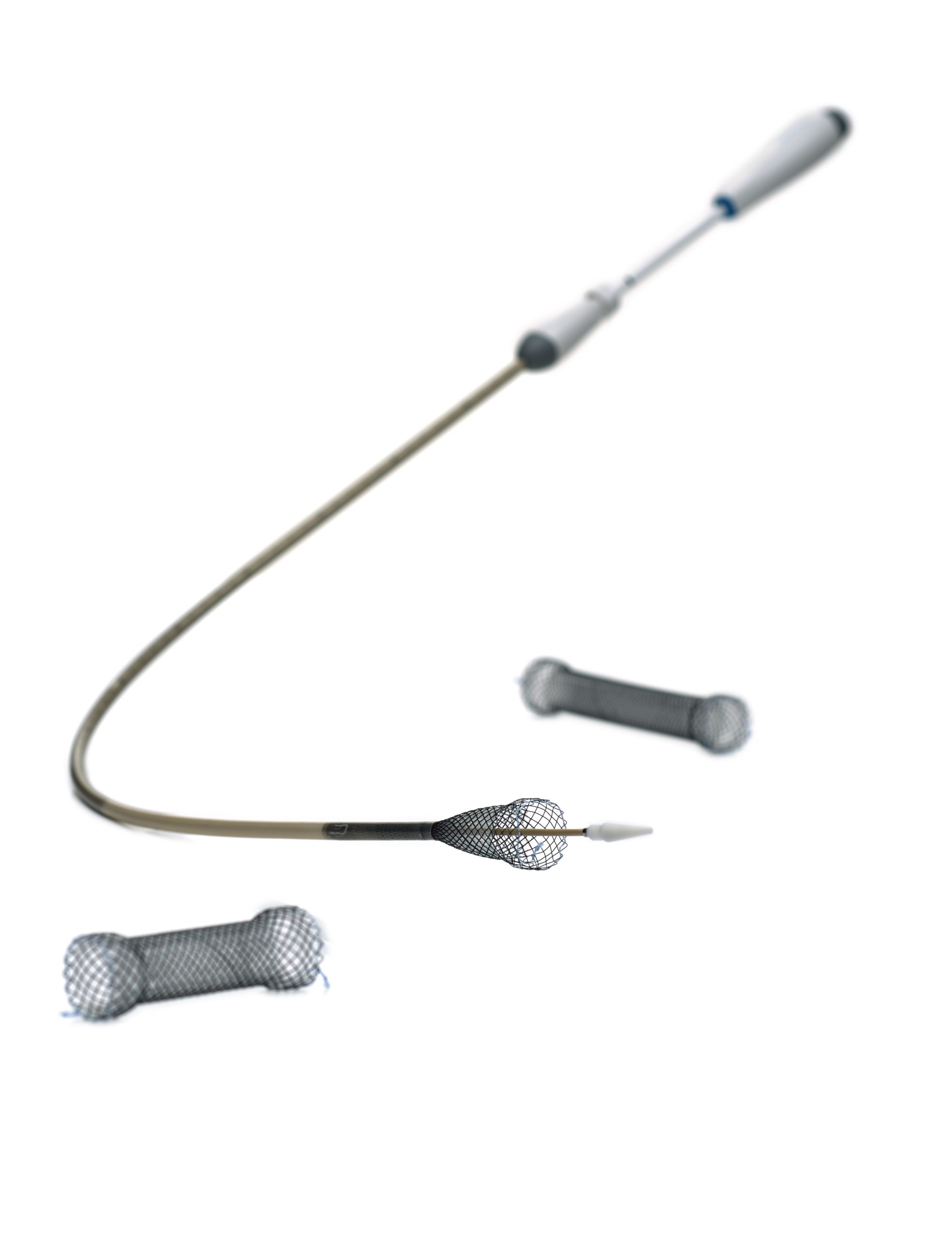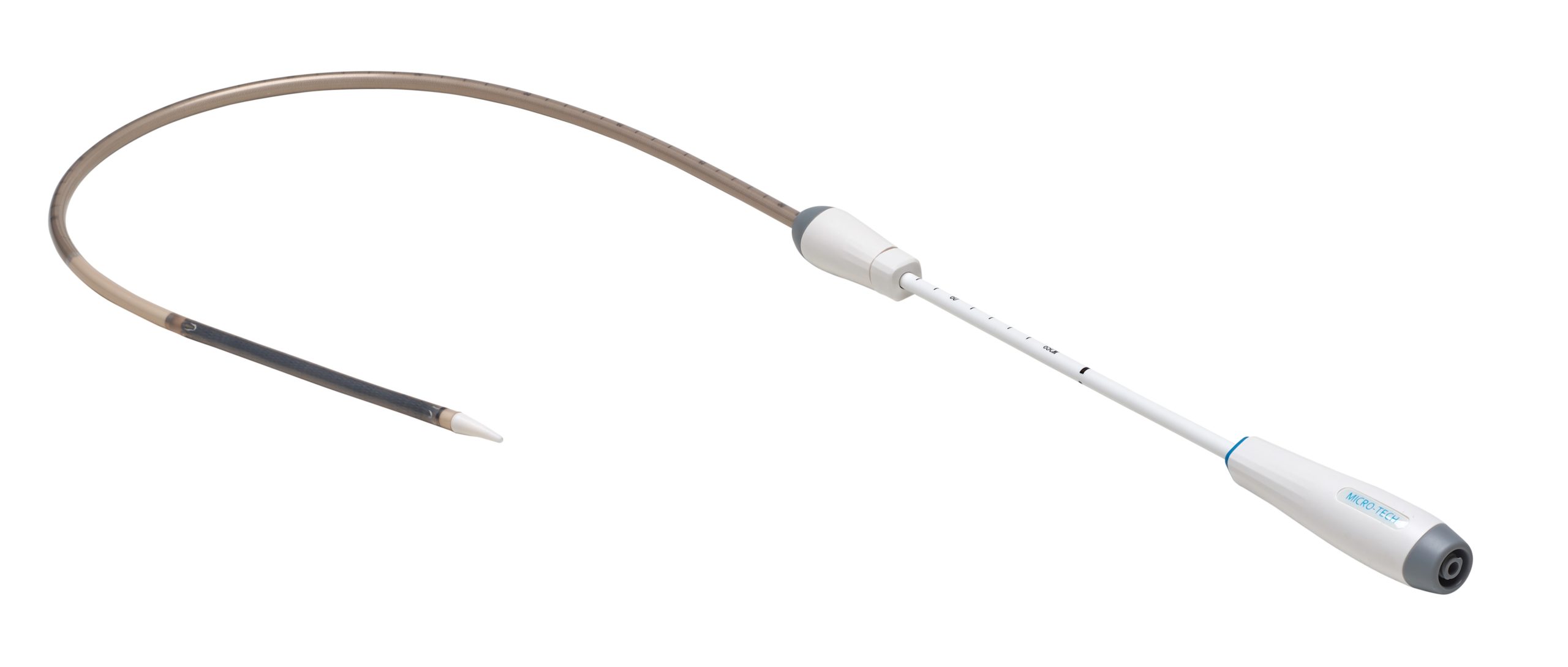 Fully Covered & Partially Covered Esophageal Stents
Precise stent placement and maintaining position throughout the deployment process are essential.
Micro-Tech Endoscopy has over two decades of experience making high-quality, affordable esophageal stent options.
The deployment system has a pliable and tapered tip to facilitate placement through tight strictures while the pre-loaded delivery catheter and sliding handle mechanism provide smooth delivery of the stent to the targeted site.
RADIO-OPAQUE MARKER
Although the entire stent is visible under X-ray fluoroscopy, each stent has several radio-opaque markers to assist with precise stent placement.
MANUFACTURED FROM ONE WIRE
Our fully and partially covered esophageal stents are braided from a single Nitinol wire, reducing the risk of fracture at the connection points
MIGRATION RESISTANCE
The flared ends may reduce migration within the esophageal lumen.
PARTIALLY COVERED ESOPHAGEAL STENT
| UPN | Description | Diameter of Stent (mm) | Diameter of Flares (mm) | Stent Length (cm) | Catheter Outer Diameter (mm) | WORKING LENGTH (CM) |
| --- | --- | --- | --- | --- | --- | --- |
| ET80070 | Partially Covered Esophageal Stent | 20 | 25 | 6 | 6.7 | 65 |
| ET80080 | Partially Covered Esophageal Stent | 20 | 25 | 8 | 6.7 | 65 |
| ET80090 | Partially Covered Esophageal Stent | 20 | 25 | 10 | 6.7 | 65 |
| ET80100 | Partially Covered Esophageal Stent | 20 | 25 | 12 | 6.7 | 65 |
| ET80110 | Partially Covered Esophageal Stent | 20 | 25 | 14 | 6.7 | 65 |
| ET80120 | Partially Covered Esophageal Stent | 20 | 25 | 15 | 6.7 | 65 |
FULLY COVERED ESOPHAGEAL STENT
| UPN | Description | Diameter of Stent (mm) | Diameter of Flares (mm) | Stent Length (cm) | Catheter Outer Diameter (mm) | WORKING LENGTH (CM) |
| --- | --- | --- | --- | --- | --- | --- |
| ET80190 | Fully Covered Esophageal Stent | 18 | 23 | 6 | 6.7 | 65 |
| ET80200 | Fully Covered Esophageal Stent | 18 | 23 | 8 | 6.7 | 65 |
| ET80210 | Fully Covered Esophageal Stent | 18 | 23 | 10 | 6.7 | 65 |
| ET80220 | Fully Covered Esophageal Stent | 18 | 23 | 12 | 6.7 | 65 |
| ET80230 | Fully Covered Esophageal Stent | 18 | 23 | 14 | 6.7 | 65 |
| ET80250 | Fully Covered Esophageal Stent | 20 | 25 | 6 | 6.7 | 65 |
| ET80260 | Fully Covered Esophageal Stent | 20 | 25 | 8 | 6.7 | 65 |
| ET80270 | Fully Covered Esophageal Stent | 20 | 25 | 10 | 6.7 | 65 |
| ET80280 | Fully Covered Esophageal Stent | 20 | 25 | 12 | 6.7 | 65 |
| ET80290 | Fully Covered Esophageal Stent | 20 | 25 | 14 | 6.7 | 65 |
| ET80300 | Fully Covered Esophageal Stent | 20 | 25 | 15 | 6.7 | 65 |
| ET80310 | Fully Covered Esophageal Stent | 22 | 27 | 6 | 6.7 | 65 |
| ET80320 | Fully Covered Esophageal Stent | 22 | 27 | 8 | 6.7 | 65 |
| ET80330 | Fully Covered Esophageal Stent | 22 | 27 | 10 | 6.7 | 65 |
| ET80340 | Fully Covered Esophageal Stent | 22 | 27 | 12 | 6.7 | 65 |
| ET80350 | Fully Covered Esophageal Stent | 22 | 27 | 14 | 6.7 | 65 |