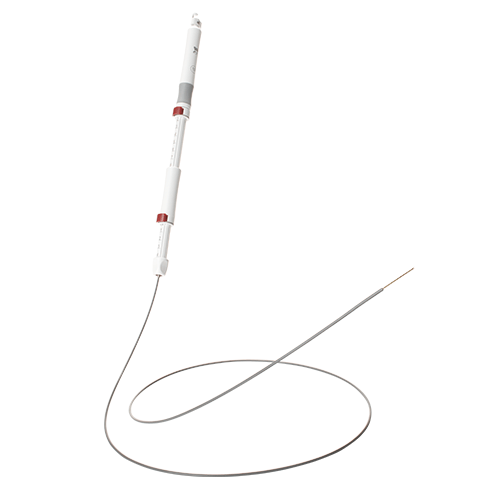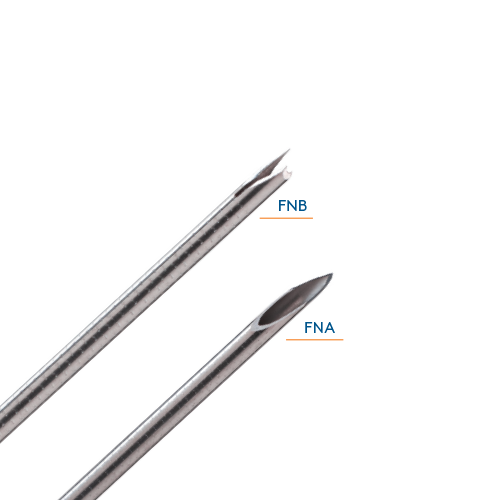 ENDOSCOPIC ULTRASOUND NEEDLES
New Adapt Nitinol Needles
In addition to the traditional line of cobalt chromium EUS needles, Micro-Tech now offers the Nitinol constructed Adapt needles. Nitinol provides enhanced maneuverability in tortuous scope positions and maintains its shape for multiple passes. The Trident FNB and Areus FNA designs are available in both materials.
ECHOGENICITY
It is always important to maintain tip visibility for accurate guidance within the target area. The surface of the Trident and Areus needles feature a laser etch V pattern, that provides good visibility under ultrasound.
SIMPLE PRECISE HANDLE CONTROLS
The Trident and Areus needles offer an ergonomic handle design with a smooth slide action during tissue sampling. Push button adjusters for the needle and sheath length provide comfortable and precise one-handed adjustment and locking control.
TRIDENT™ ENDOSCOPIC ULTRASOUND FINE NEEDLE BIOPSY
| UPN | Description | Needle Size | Sheath Diameter (mm) | MINIMUM CHANNEL SIZE (MM) | PACKAGE UNITS |
| --- | --- | --- | --- | --- | --- |
| ES34671 | Trident Adapt FNB Needle Nitinol | 22ga | 1.8 | 2.8 | Each |
| ES34661 | Trident Adapt FNB Needle Nitinol | 19ga | 1.8 | 2.8 | Each |
AREUS™ ENDOSCOPIC ULTRASOUND FINE NEEDLE ASPIRATION
| UPN | Description | Needle Size | Sheath Diameter (mm) | MINIMUM CHANNEL SIZE (MM) | PACKAGE UNITS |
| --- | --- | --- | --- | --- | --- |
| ES34641 | Areus Adapt FNA Needle Nitinol | 22ga | 1.8 | 2.8 | Each |
| ES34631 | Areus Adapt FNA Needle Nitinol | 19ga | 1.8 | 2.8 | Each |