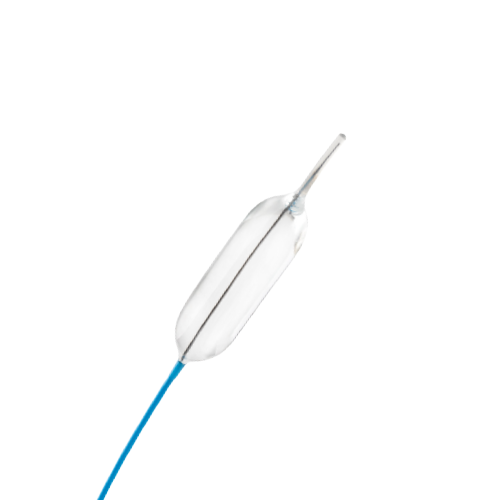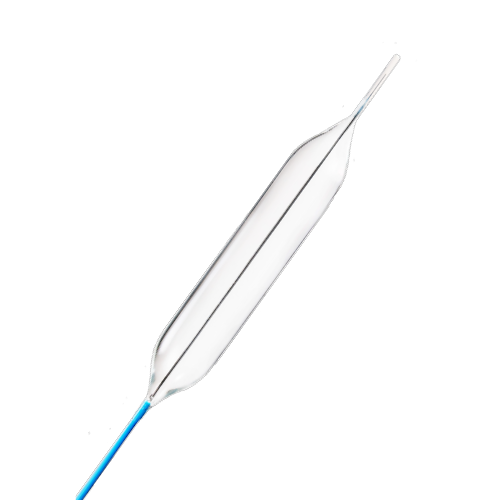 SINGLE-STAGE DILATION BALLOONS
For a simple, affordable solution to balloon dilation, choose the ABC Dilation Balloon. Manufactured from high-quality, non-compliant nylon material, the ABC Balloon offers the radial strength required to accurately and consistently dilate strictures.
The balloon can be inflated in 3 Steps, eliminating the need for multiple balloons in the same procedure. It offers an economical solution versus typical radial expansion balloons.
The balloon is available as a flexible fixed wire esophageal 8cm balloon on a 6Fr catheter, featuring rapid inflation/deflation performance. Or as a wire-guided esophageal, pyloric, colonic 5.5cm balloon, on a dual-channel 7Fr catheter with a .035' flexible tip guide-wire.
CHOICE OF MATERIAL
The durable nylon material delivers strength with accurate sizing. The non-compliant material provides the radial force required for consistent dilation. Inflated in 3 steps, the ABC balloon provides an affordable alternative to radial expanding balloons.
VISIBILITY UNDER FLUOROSCOPY
All wire-guided balloons feature two radiopaque markers at the balloon shoulder, allowing for accurate placement across
 the stricture. The dedicated inflation port permits the introduction of contrast to further enhance visibility if desired.
TAPERED TIP
The rounded tip aids in the smooth passage of the balloon across the stricture. The wire-guided balloon is provided with a pre-loaded .035 guide-wire that has a soft, flexible tip to assist in placement in tortuous or altered anatomy.
FIXED WIRE ABC DILATION BALLOONS
| UPN | Description | Balloon Diameter (mm) | Balloon Length (cm) | WORKING LENGTH (CM) | MINIMUM CHANNEL SIZE (MM) | PACKAGE UNITS |
| --- | --- | --- | --- | --- | --- | --- |
| FW24165 | ABC Colon Dilation Balloon 6 mm x 5.5 cm, 2 pack | 6 | 5.5 | 230 | 2.8 | 2/Box |
| FW24175 | ABC Colon Dilation Balloon 8 mm x 5.5 cm, 2 pack | 8 | 5.5 | 230 | 2.8 | 2/Box |
| FW24185 | ABC Colon Dilation Balloon 10 mm x 5.5 cm, 2 pack | 10 | 5.5 | 230 | 2.8 | 2/Box |
| FW24195 | ABC Colon Dilation Balloon 12 mm x 5.5 cm, 2 pack | 12 | 5.5 | 230 | 2.8 | 2/Box |
| FW24205 | ABC Colon Dilation Balloon 15 mm x 5.5 cm, 2 pack | 15 | 5.5 | 230 | 2.8 | 2/Box |
| FW24215 | ABC Colon Dilation Balloon 18 mm x 5.5 cm, 2 pack | 18 | 5.5 | 230 | 2.8 | 2/Box |
| FW24225 | ABC Colon Dilation Balloon 20 mm x 5.5 cm, 2 pack | 20 | 5.5 | 230 | 2.8 | 2/Box |
FIXED WIRE ESOPHAGEAL 3-STEP INFLATION BALLOONS
| UPN | Description | Balloon Diameter (mm) | Balloon Length (cm) | WORKING LENGTH (CM) | MINIMUM CHANNEL SIZE (MM) | PACKAGE UNITS |
| --- | --- | --- | --- | --- | --- | --- |
| FW24075 | ABC Esophageal Dilatation Balloon | 6 | 8 | 180 | 2.8 | 2/Box |
| FW24085 | ABC Esophageal Dilatation Balloon | 8 | 8 | 180 | 2.8 | 2/Box |
| FW24095 | ABC Esophageal Dilatation Balloon | 10 | 8 | 180 | 2.8 | 2/Box |
| FW24105 | ABC Esophageal Dilatation Balloon | 12 | 8 | 180 | 2.8 | 2/Box |
| FW24125 | ABC Esophageal Dilatation Balloon | 15 | 8 | 180 | 2.8 | 2/Box |
| FW24145 | ABC Esophageal Dilatation Balloon | 18 | 8 | 180 | 2.8 | 2/Box |
| FW24155 | ABC Esophageal Dilatation Balloon | 20 | 8 | 180 | 2.8 | 2/Box |
WIRE GUIDED ESOPHAGEAL, PYLORIC, COLONIC BALLOONS
| UPN | Description | Balloon Diameter (mm) | Balloon Length (cm) | WORKING LENGTH (CM) | MINIMUM CHANNEL SIZE (MM) | PACKAGE UNITS |
| --- | --- | --- | --- | --- | --- | --- |
| BD20091 | TTS – Wire Guided Dilation Balloon | 6 | 5.5 | 240 | 2.8 | 1/Box |
| BD20181 | TTS – Wire Guided Dilation Balloon | 8 | 5.5 | 240 | 2.8 | 1/Box |
| BD20271 | TTS – Wire Guided Dilation Balloon | 10 | 5.5 | 240 | 2.8 | 1/Box |
| BD20361 | TTS – Wire Guided Dilation Balloon | 12 | 5.5 | 240 | 2.8 | 1/Box |
| BD20451 | TTS – Wire Guided Dilation Balloon | 14 | 5.5 | 240 | 2.8 | 1/Box |
| BD20631 | TTS – Wire Guided Dilation Balloon | 16 | 5.5 | 240 | 2.8 | 1/Box |
| BD20721 | TTS – Wire Guided Dilation Balloon | 18 | 5.5 | 240 | 2.8 | 1/Box |