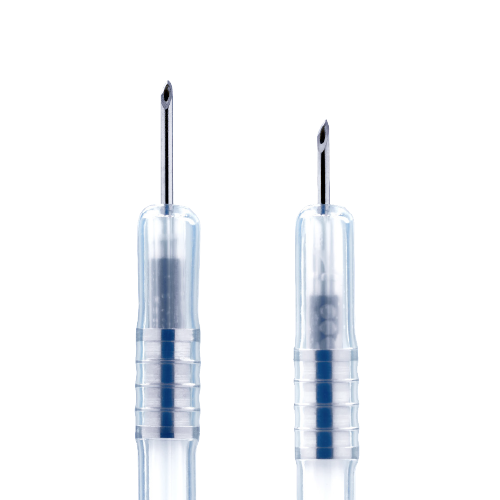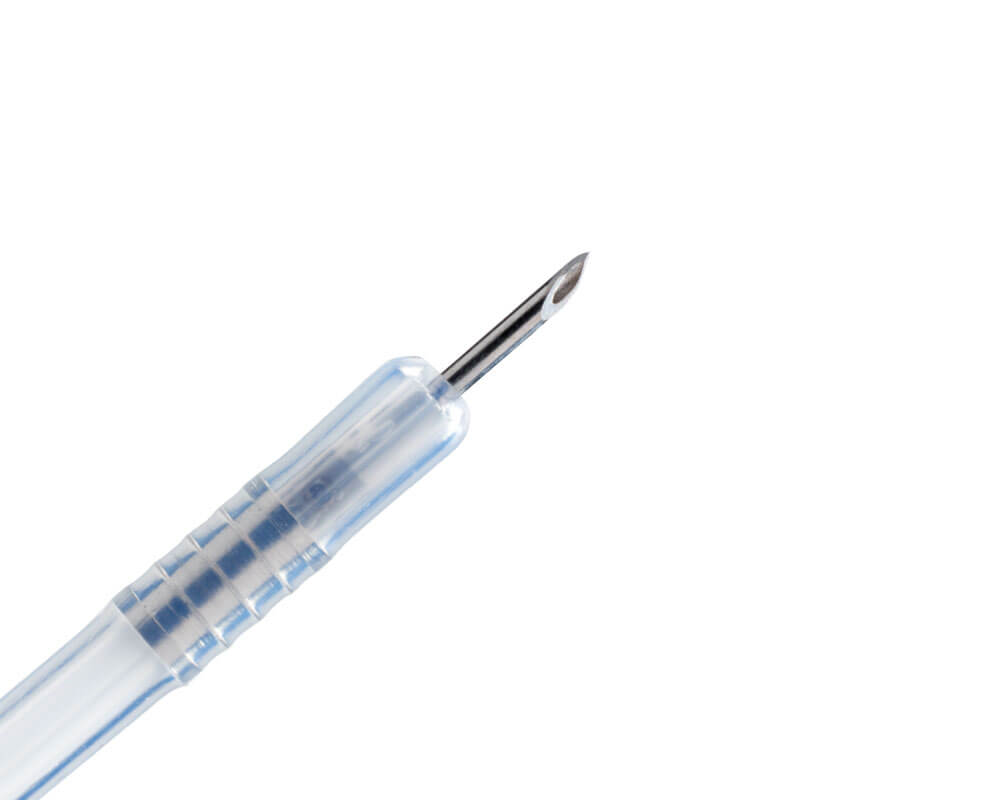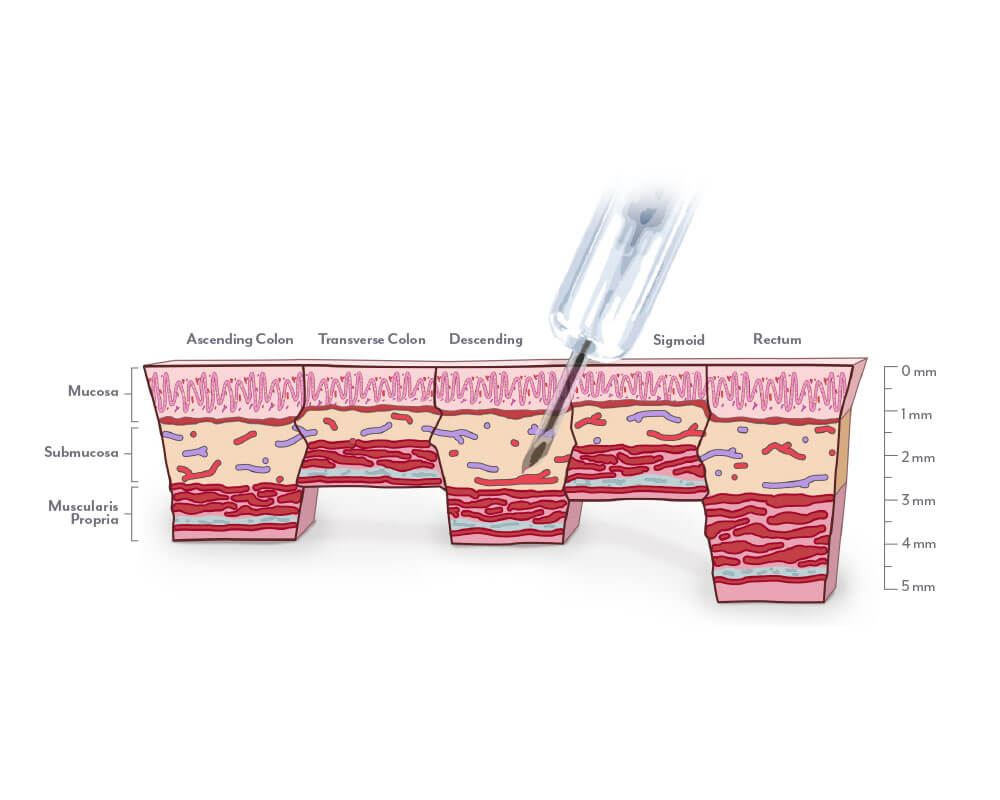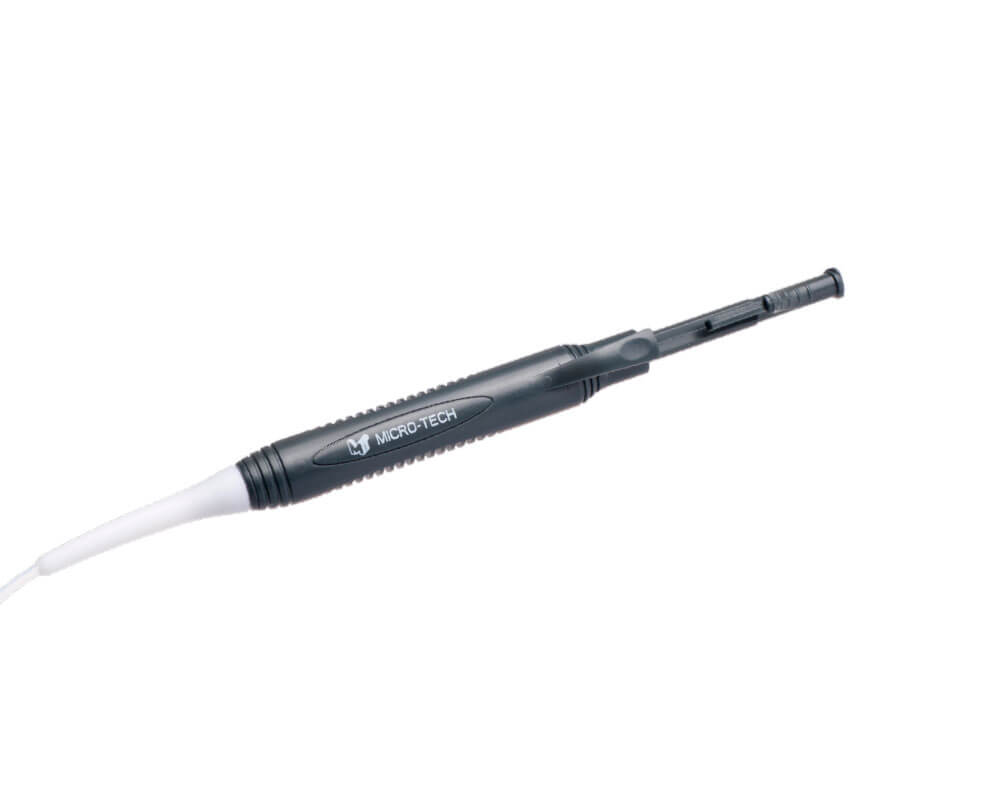 A simple, elegant solution, the 5 mm and 3 mm long lancet injection needles are offered in 22 and 25 gauge. Designed for single-handed operation, the innovative design limits accidental needle deployment during insertion and removal. The patented ratchet mechanism provides audible confirmation of deployment and minimizes needle bounce. A quick-release button returns the needle fully into the sheath. The recessed metal end cap and firm catheter aid in tissue puncture and ensure needle performance through various scope positions.
ONE-HANDED OPERATION
Ergonomically designed one-handed operation enables confident needle deployment that enables rapid needle retraction.
PATENTED RATCHET DESIGN
Provides audible confirmation and secure locking of the deployed needle during use. As the needle is advanced, the ratchet gives tactile feedback and helps to reduce needle bounce.
SHORT BEVEL TIP
Both the 5 mm and 3 mm needles feature a shorter 3-bevel tip, designed to improve accuracy. The 3 mm needle was designed to help target the ideal tissue depth for submucosal injection while the 5 mm allows for greater flexibility in therapeutic use.
Injection Needles
| UPN | Description | Needles Gauge/ Length (mm) | Sheath Diameter (mm) | WORKING LENGTH (CM) | MINIMUM CHANNEL SIZE (MM) | PACKAGE UNITS |
| --- | --- | --- | --- | --- | --- | --- |
| IN33131 | Injection Needle Upper | 22/5 | 2.3 | 180 | 2.8 | 10/Box |
| IN33221 | Injection Needle Upper | 25/5 | 2.3 | 180 | 2.8 | 10/Box |
| IN33151 | Injection Needle Lower | 22/5 | 2.3 | 230 | 2.8 | 10/Box |
| IN33241 | Injection Needle Lower | 25/5 | 2.3 | 230 | 2.8 | 10/Box |
| IN33301 | PinPoint Injection Needle Lower | 22/3 | 2.3 | 230 | 2.8 | 10/Box |
| IN33331 | PinPoint Injection Needle Lower | 25/3 | 2.3 | 230 | 2.8 | 10/Box |